Exhibitor and Sponsor Information and Registration
View more information about South Dakota Pharmacists Association's exhibitors and sponsors, and register to become one with our secure online form.
---

Game on - the 136th annual convention
Industry Friends,
On behalf of the South Dakota Pharmacists Association (SDPhA) board of directors, it is my sin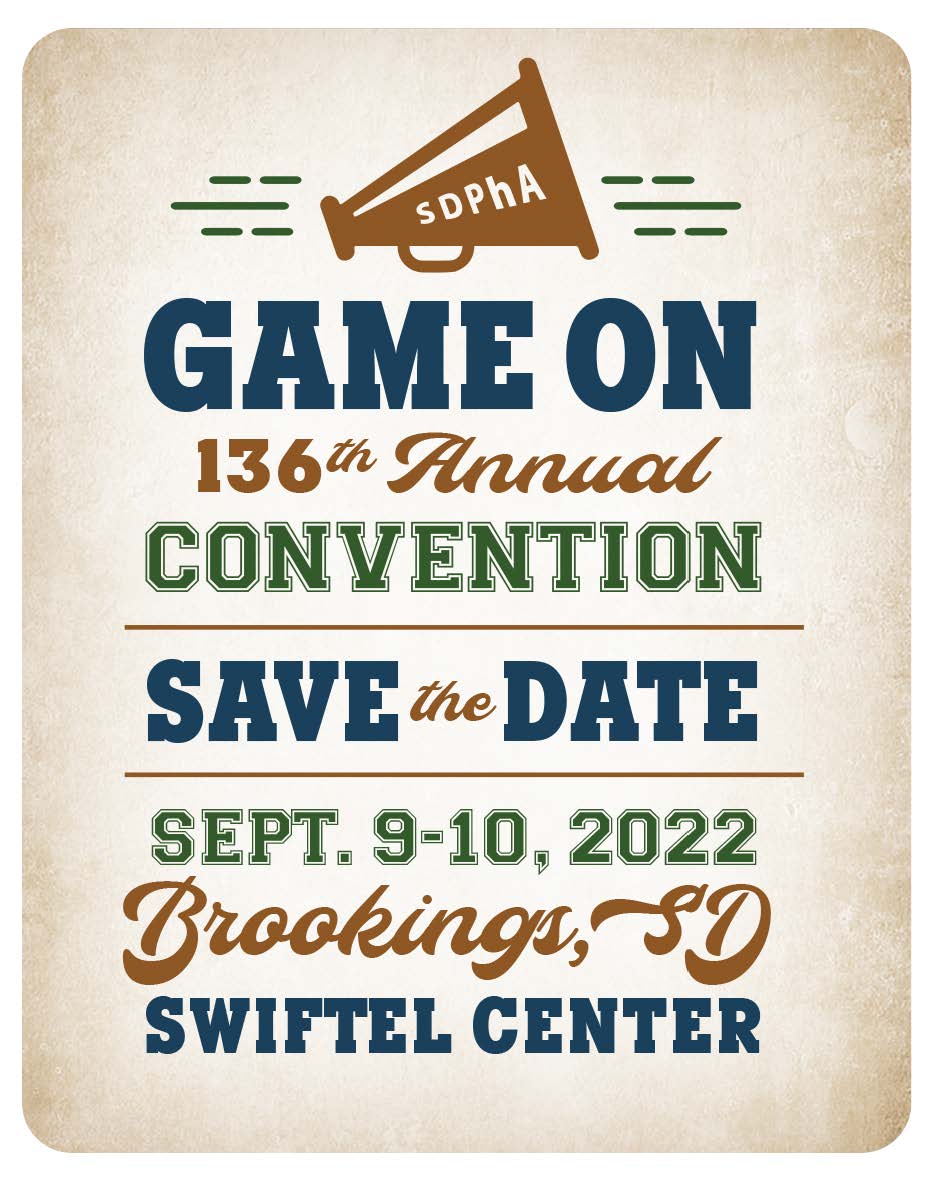 cere pleasure to invite you to join us (in person!) at the South Dakota Pharmacists Association 2022 Convention Sept. 9-10 at the Swiftel Center in Brookings, SD. This return to the home of South Dakota's only pharmacy college is sure to bring a greater than usual attendance. A large number of our South Dakota pharmacists (and many in surrounding states, too) are Jackrabbits from South Dakota State University, and this opportunity to return to the old stomping grounds always brings great energy to the event, and a host of SDSU student pharmacists, too!
We are grateful to have had the opportunity to continue to meet virtually while we worked through the challenges of the pandemic, but dare I say we are giddy to bring everyone back together to celebrate the heroic work of our pharmacists, technicians, and you, our industry friends. It is truly, "Game On!" and we couldn't be more excited to huddle in person!
Our convention includes many educational opportunities for pharmacists throughout South Dakota and neighboring states, and our members include pharmacists from all practice settings. The specific goals of the convention are to bring awareness to pharmacist services, increase knowledge of new pharmaceutical treatment options, and provide educational services for pharmacists within the healthcare provider team.
To help meet our objectives, we ask you and your company for support in our efforts. We seek voluntary financial support to offset speaker costs, program materials, etc. We also greatly encourage your company to participate in our exhibit hall. Please see the attached forms inviting your participation as an associate member, sponsor, and/or exhibitor. All companies will be recognized for their contributions. Our exhibitor space is limited, so we encourage you to complete the registration form today online.
The SDPhA convention offers an outstanding experience for vendors that encourages all our pharmacist, student and technician attendees to visit the exhibitor booths, and really learn more about your products and services. For your consideration and future planning, at this time, display time is scheduled for Fri, Sept. 9 from 11 a.m. – 1 p.m. in the exhibit hall area with attendees. For clarification purposes, the vendor area will be separate and apart from the educational/CE area. We expect between 175-200 attendees, including a great number of student pharmacists.
We hope you can join us and show your support for the pharmacy profession. If you require more information regarding program content, specific speakers, or attendance, we would be happy to visit with you! Thank you so very much for your consideration and support. It is genuinely appreciated.
Thank you,
Amanda Bacon, Executive Director
South Dakota Pharmacists Association
PS - You can download the full vendor packet here. You can register online using the form below - even if you are paying by check. The registration deadline is July 29, 2022. After that date, please call 605.224.2338 to inquire of availability.